Welcome to the Abbey's 63rd Poetry Party!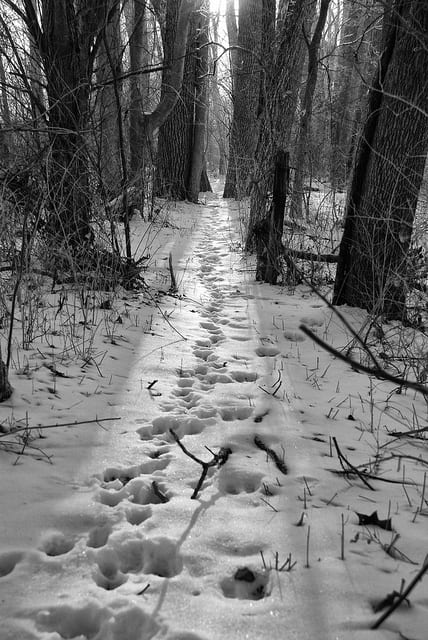 I select an image and suggest a theme/title and invite you to respond with your own poem. Scroll down and add it in the comments section below. Feel free to take your poem in any direction and then post the image and invitation on your blog (if you have one), Facebook, or Twitter, and encourage others to come join the party!  (If you repost the photo, please make sure to include the credit link below it and link back to this post inviting others to join us).
Each month we have a new theme and for December it is kinship with creation, drawn from the fourth principle of the Monk Manifesto: "I commit to cultivating awareness of my kinship with creation and a healthy asceticism by discerning my use of energy and things, letting go of what does not help nature to flourish."
Photo Credit: "Snow Tracks" by Brent Bill
(please use this credit if you repost this invitation on your blog and link back to the Abbey as well – thank you!)
Write a poem about your own experience of kinship with creation or longing for it.  Share it below in the comments with the Abbey community.
On Sunday, December 23rd,  I will draw a name at random from those who participate and the winner will receive a space in one of my Self-Study Online Classes (with a choice from Soul of a Pilgrim, Eyes of the Heart, Water Wind Earth & Fire, Seasons of the Soul, or Lectio Divina)