I have the tremendous privilege of working with several beautiful souls in this Abbey work, each of whom has their own flourishing body of work.  Here are some recommendations for other resources to explore to support your own deepening journey: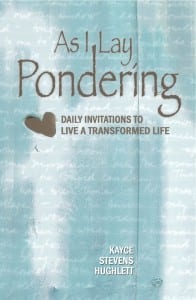 The lovely Kayce Stevens Hughlettt is a Soul Care Institute core faculty member, with whom I teach the powerful live retreat Exploring Archetypes through the Expressive Arts (offered next in 2013) and who is also the solo facilitator for the online class Live it to Give it: Essential Practices of Soul Nourishment and Self-Care (offered next this fall).
She is also the author of As I Lay Pondering: Daily Invitations to Live a Transformed Life.  Her nourishing and inspiring book of daily meditations invites the reader to ponder – that is consider something spaciously, to dive beneath the surface of things – the perfect practice for monks in the world.  And her book is now available on Kindle, for those of you traveling more lightly these days.
Kayce and I are dreaming these days of creating a writing retreat for a small group of monks and writers with the city of Vienna, Austria as our inspiration – letting the architecture, art, music, and food stir our creative hearts.  Sound amazing?  Yes indeed. . .
Ronna Detrick is a new friend and soon-to-be-collaborator on a new fall program at the Abbey for women at the threshold (more details later in the summer).  Ronna's passion is bringing the voices of women in scripture to light and life for a contemporary audience, to let this wisdom shimmer for us in new ways.
Her most recent offering is Inspired by Eve, a "workbook for self-trust, deep knowing, and a delicious life of desire."  A wonderful resource inviting you deep into this archetypal story, Ronna creates a spiritual direction space on the page, for you to listen into your own deep longings and desires with Eve as guide.  This is definitely not your traditional kind of scripture study and the included mp3 meditation alone is worth the price of entry.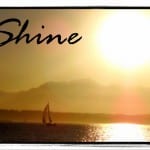 And a reminder that there is just one more day to share your poem in this week's Poetry Party and enter for a chance to win a free on-demand online class from the Abbey.  There is also a great summer sale happening (which also ends tomorrow) on these same on-demand classes to nourish you through the summer while the Abbey takes some sabbatical time until August when the fabulous fall lineup of Abbey classes and retreats will be unveiled.