Water, Wind, Earth & Fire
A Companion Retreat to the Book
Registration Fee: $120 USD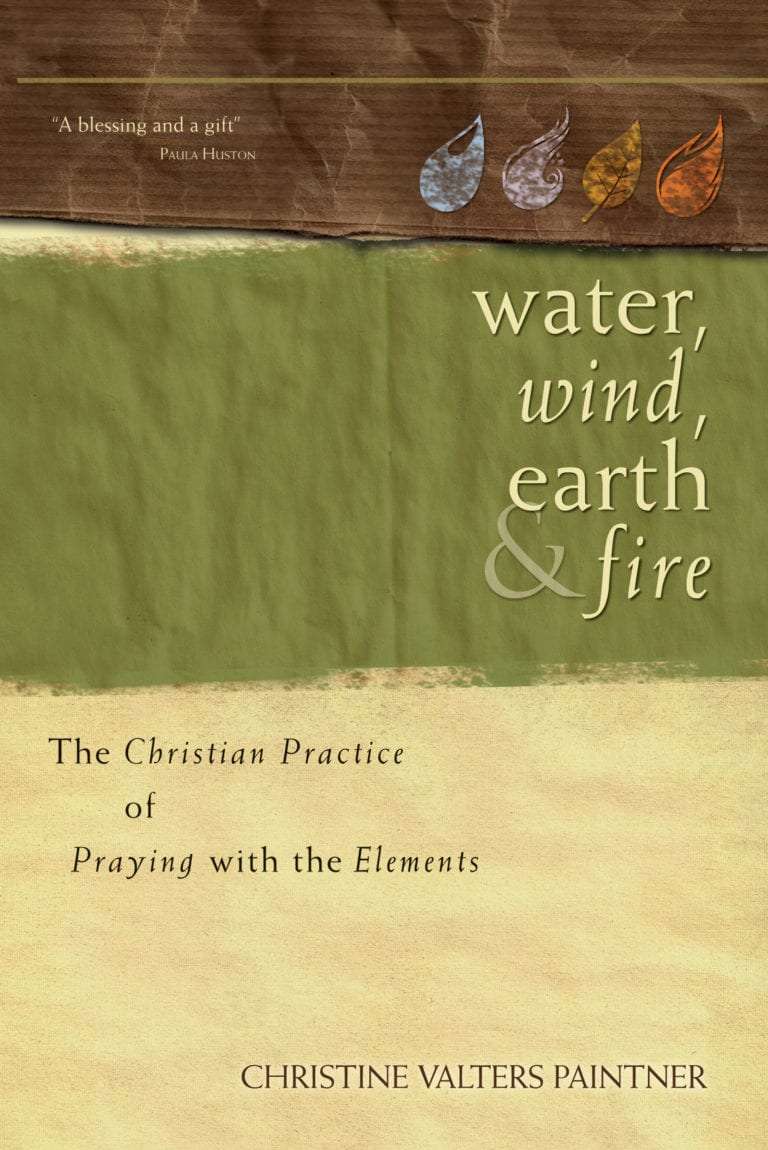 Are you ready to take a retreat in everyday life through the heart of creation?
We live in a time when our relationship to the natural world has never been more important to the survival and flourishing of all beings.  Transforming our engagement with creation emerges from a deeply rooted contemplative practice where we come to know what Teilhard de Chardin called the "breathing together of all things."  The four primal elements of water, wind, earth, and fire are woven throughout the Hebrew and Christian scriptures and the wisdom of the great mystics, and they can enliven and incarnate prayer and faith.  This 5-week online retreat invites you into a deeply contemplative spirituality which engages creation through ancient texts and prayer practices.  With the support of Christine's wise guidance and special guest teachers and artists, you will explore how the four elements invite you into a spiritual life infused with a reverence for the whole created world.
When we recognize ourselves as a part of the earth community, as the scriptures and mystics have encouraged us to do for centuries, then we begin to see the profound mystery at work in the depths of our souls is the same sacred mystery at work in the natural world.  Contemplative presence to nature transforms our daily choices so we become conscious of how to live within the matrix of creation in life-giving ways.
This online class includes suggested reading from the book Water, Wind, Earth, and Fire: The Christian Practice of Praying with the Elements, weekly reflections to orient you to the week's focus with practices and creative exercises (in PDF format) and a guided meditation recording each week (MP3 file). Experience the elements through image and imagination as facilitator Kayce Stevens Hughlett guides you virtually through the creative process of SoulCollage®. Each week will include exercises to help you create your own collaged card and then interact with it to deepen your personal awareness of earth, wind, fire and water.
Also included are five beautiful songs from River's Voice and two dance/movement videos from Betsey Beckman including her StoryDance video of the Creation story and a video for the fifth week of integration through guided movement.
Awaken your passion for creation through prayerful encounters with the sacred elements as our guides.  Fall in love again with the God who pulses through nature.  Commit to a guided journey of encountering the holy in creation.
Do you long for ways to enter more mindfully into this holy time of year?  Are there stories you would like to remember and honor?
5 weekly overviews with new material and suggestions for mini-retreat experiences by Christine
5 guided meditations led by Christine
5 guided SoulCollage® experiences led by Kayce Stevens Hughlett (introductory video + 5 entry meditations + pdf handout)
5 songs by Rivers Voice to deepen your experience of the elements
2 videos by Betsey Beckman including her dancing the Creation story and a guided movement experience for the final week
You will receive emails with a link to the day's content. The materials are in written, audio and video formats which you can read, listen to and watch at any time. You have forever access to the materials in the course and can move through the retreat at your own pace.
This retreat includes suggested readings from the book Water, Wind, Earth, and Fire: The Christian Practice of Praying with the Elements, to orient you to the week's focus with practices and creative exercises.
Your Guides for the Journey
For too many centuries, too many Christians have been taught that a deep reverence for the beauty of nature is incompatible with sincere faith. Christine Valters Paintner's Water, Wind, Earth, and Fire thus comes as both a blessing and a gift. Not only is her writing as beautiful as the symbolism she describes, but her wide knowledge of scripture, patristic writing, the mystical life of the saints, and contemporary spiritual poetry makes the reading of this book an inspiring and rejuvenating adventure.
Christine Valters Paintner invites us—with inspiring words and examples—to dive deep into the elemental universe, and encounter there the Mystery that hides in all things. She writes out of the Christian tradition, but her message is as universal as the elements themselves.
Amid the current profusion of spirituality-and-nature books, Water, Wind, Earth, and Fire is a rare treasure: a deeply Christian book that also draws us more deeply into contemplation of and relationship with nature. This fine work of spiritual wisdom and guidance offers to both individuals and groups a companion for all seasons. It can soothe at night, enliven in the morning, kindle the human spirit during the day, and at all times serve as a reminder of the abiding presence of the Creator Spirit, which is the spirit of Christ on earth and among us.
In a warm, personable manner, Paintner, a Benedictine oblate and spiritual director, invites the reader to engage creation as a sacred text by prayerfully exploring theological dimensions of the elements. Drawing on Celtic tradition, Paintner explores religious and cultural symbolism; for example, water's associations with the direction west, the season autumn, and its physical forms and spiritual dimensions, such as tides, thirst, tears, baptism. Suggestions for reflection and action include the application of lectio divina, a practice of sacred reading typically used with scripture, to nature, encouraging the reader to listen deeply for the stirring of the holy in sacred texts around us. In each chapter, Paintner offers reflections on her prayer life during the book's composition, demonstrating how she applied the spiritual practices she suggests (such as lighting a candle when contemplating Fire). Quotes from scripture, poets, essayists, and Christian mystics encourage the reader to seek divine revelation and comprehension of God's love for all creation by cultivating a contemplative relationship to nature. Simple and powerful, this book will be a welcome new resource for individuals and groups seeking spiritual connection to creation.
All prices displayed in USD.
If you need a different payment plan or a scholarship to make this program accessible, please get in
touch with us.
Purchase the Companion Book
The book is not included in the registration fee. You may purchase the book at the links below or at your local book seller. Thank you for your support!