An 8-week online self-study retreat
Description
with reflections by Christine and John Valters Paintner, songs from Richard & Trish Bruxvoort Colligan and Lorraine Bayes, and movement prayer from Betsey Beckman
The monk in the world lives the new creation
"The monk here and now is supposed to be living the life of the new creation in which the right relation to all the rest of God's creatures is fully restored. Hence Desert Father stories about tame lions and all that jazz." 
–Thomas Merton
At the Abbey our focus is on contemplative practice in the midst of daily life. To be a monk in the world means to live in a way that is deeply attentive and present to life's unfolding. Merton's quote is a keen reminder of our call as monks, to live the new creation now, not later at another time. As monks we nurture our capacity to see the holy active right here in this moment. We discover that the "kin-dom" is among us now and we live as if this were true.
The Age of Forgetting
We live in what we might call an Age of Forgetting. We have forgotten who we are in relation to everything else: the creatures, the plants, the mountains, the forests, the oceans, one another, and even to ourselves.
One of the fruits of contemplative practice is the remembrance of our wholeness, to see past the divisions we create with our egos and minds, and rediscover the way we are all of one creation.
This will be a retreat dedicated to Remembering. We are resurrecting the memory of an ancient kinship. We are called to a holy remembrance of a wise knowing within us. We are not separate from nature and creation. We have animal bodies and within us is a wild and intuitive capacity that goes beyond the carefully constructed plans we have for ourselves.  As Mary Oliver writes in her poem "Wild Geese," "let the soft animal of your body love what it loves."
Your invitation is to reawaken to this ancient and intimate kinship, reclaim your own wildness, cherish the earth as the original monastery and teacher of how to live the contemplative life.
Monastic tradition was birthed in the forests and deserts, the places of wilderness and wild edges which reflect an inner reality as well. This call to the edges, which is the monk's call, is a call to wildness, to that which lies beyond our domesticated, neat, safe, and secure lives. Nature reminds us of the messiness and beauty of things. Nature says that when we let ourselves get messy and play in the dirt, profound things can happen.
Thomas Merton believed his one job as a monk was to maintain this kind of connection to the natural world, allow it to be his teacher and guide.
Drawing on contemplative practice and awareness, each day develops a theme connected to the overall theme of Earth as Our First Monastery and your inner monk and artist will be invited to encounter nature as both sage and muse.
Click here to read Christine's article Earth: The Original Monastery published in Network Ireland magazine
WHAT IS INCLUDED
8 weekly reflections from both Christine and John Valters Paintner to break open the theme.
Weekly invitations into contemplative and creative exploration.
8 songs connected to the themes.
8 video invitations from Betsey Beckman into embodied prayer with creation.
Materials arrive 6 days each week with the seventh day as a time of Sabbath rest and integration.
Hosted on our easy to use Ruzuku platform.
WEEKLY THEMES
Week 1:    Nature is the first book of revelation and scripture text
Week 2:    The elements are our soul friends and first spiritual director
Week 3:    The river, mountains, and creatures are canonized as out first Saints
Week 4:    Creation is our first sacred space
Week 5:    Nature is the original icon and primordial sacrament revealing the face of God
Week 6:    All creation sings praise to God offering us the original liturgy
Week 7:    The seasons and cycles of creation invite us into the rhythm of the Hours
Week 8:    Celebrating the wild spirit in creation and in you
Registration
Program fee: USD$150 
Terms and Conditions 
There are no refunds for self-study purchases. Please make your selection carefully.
Materials stay available to you indefinitely. There is no "expiration" date for your access.
Discounts are available for small groups wanting to move through the material together:  20% off when 3 people register together, 30% off for 5, 40% off for 7 and above. Please contact Christine by email to request an invoice.
We also offer partial scholarships to those for whom the full cost would be a financial hardship. Please contact us to inquire.
YOUR GUIDES FOR THE JOURNEY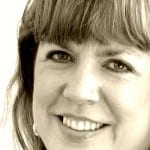 Christine Valters Paintner, PhD, REACE is the online Abbess of Abbey of the Arts, a global, virtual monastery inviting the life-giving dance between contemplative practice and creative expression. Christine is the author of 9 books including The Artist's Rule: Nourishing Your Creative Soul with Monastic Wisdom.
She earned her PhD in Christian spirituality and her professional status as a Registered Expressive Arts Consultant and Educator from the International Expressive Arts Therapy Association. Christine lives in Galway, Ireland, with her husband John, where they welcome groups of pilgrims and monks in the world for a dance on the wild edges of the world.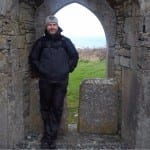 John Valters Paintner, MTS studied education and earned a teaching certificate in his home state of California. John later went on to earn a Masters in Theological Studies at the Jesuit School of Theology in Berkeley. After working in parish ministry for several years, John returned to the classroom, teaching high school religion with a focus on the Hebrew Scriptures for twelve years.
After a sabbatical year abroad, John now works as Prior of the Abbey of the Arts along side his wife of twenty-one years, Abbess Christine, living together in Galway, Ireland. They lead pilgrimages and John offers his passion for the scriptures to the online retreats.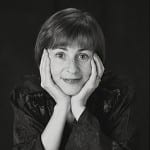 Betsey Beckman, MM is nationally acclaimed as a spirited dancer, storyteller, teacher of SpiritPlay and dancing Spiritual Director. With her extensive repertory of sacred storydances, she is regularly featured as artist/presenter at national conventions as well as local churches. She earned her Masters in Ministry degree from Seattle University, her certificate in Movement Therapy from the Institute for Transformational Movement, and is a certified InterPlay leader. As dancer, choreographer, author, mother, wife, teacher and spiritual director, she is passionate about living life fully and fostering creativity in all those with whom she shares life and ministry. Betsey's publications include books (she is co-author of Awakening the Creative Spirit: Bringing the Expressive Arts to Spiritual Direction), recordings, and The Dancing Word series of DVDs on embodied prayer. She offers the gift of playful improvisation whenever possible.
PRAISE FROM PREVIOUS PARTICIPANTS
The Abbey, my fellow monks and artists, and all the other pilgrims I've met in the various online retreats have all had such a positive impact on my life…an impact that continues to ripple outward in ever-widening circles. I believe in this work Christine is doing with my whole heart because (a) I have experienced firsthand the amazing transformation and growth that takes place in me as I engage with the materials and other participants in the courses offered and (b) I see that same transformation, growth and blossoming happening in my fellow monks. —Stacy Wills
This is part of what belonging to the Abbey of the Arts means – we are that community – even when a particular course or retreat finishes. We carry the vision, the ambience, the love, the values and the traditions on. We ARE the Abbey, under the wise leadership of Christine. The love between us cannot die, even though we are scattered. We are not dissolved. The vision goes on, growing in each one of us, as we work out what it is to be a monk in the world, creatively expressing all that we have been given. And maybe also the vision of what it means to be this Abbey of the Arts keeps on greening and growing into its fulfillment, as it takes its place in the world. —Caroline Moore
At its heart, Abbey of the Arts is a generous invitation to pay attention to transformation wherever it is happening. I have felt empowered by the Abbey community to express what is honestly going on in my invisible life. How often does one come across that kind of love?
A course with the Abbey community means taking risks. The seasons I've been with the Abbey are times to give language to my experience– to try stuff out and put it out there for reflection and conversation. It's a rare thing to find any culture so safe for taking artistic and theological risks. There's a compelling expectation that this is a place to work out your shit, whatever is coming up, whether intentionally and artistically designed or terrifying and tentative.
Before I did anything online with the Abbey, I thought, "How can an online thing really be transformative and personal?" I was surprised at the depth of conversation. I was surprised at the commitment I was drawn to make to my fellow monks. There's nothing else in the world I know of like this.
My consistent experience has been a sense of the Christine's commitment to the online platform and careful attention to every word and image that is placed there. —Richard Bruxvoort Colligan
The Abbey is the community I call home. I love all the different people I meet and the teachers that I get to work and pray with. I have always been a bit of a pilgrim, a soul traveling sister, but I needed a place to call home. Abbey of the Arts is just that for me. The most life altering retreats for me here at the Abbey have been the Way of the Monk/Path of the Artist and Women on the Threshold. I encourage anyone who hasn't done these retreats to do so, they are amazing. I have discovered with these retreats is the daily assignments not only opens my mind and my eyes but I get better at whatever medium Christine uses. I develop more skill, more confidence. That confidence spills over into other areas of my life. I feel better about myself and in engaging in the world. —Ann Dissek