December 2-29, 2018
Description
Join us for this four-week online journey into the heart of Advent and the season's invitation into a contemplative space of preparation for the holy birth in our midst. When we take the incarnation seriously we begin to see all of creation as a manifestation of the divine, everything is holy now – this leaf, this stone, this bird, the stars above, this moment here. In the Celtic tradition nature is the first book of revelation and scripture the second. The words from the first Sunday's gospel text – "There will be signs in the sun, moon, and stars" – will form the foundation of our journey into contemplative practices of attention, wonder, gratitude, lament, and enchantment. We will focus on seeing the world with new eyes and renewed vision.
We live in very challenging times, times when it is easy to become cynical, angry, despairing over the state of the world. The earth keeps calling us back to herself, offering gifts of renewal and sustenance to continue on. The earth invites us to a continual tending of the holy birth happening in each one of us. Advent is the perfect time to ponder these things in our hearts.
Each week we will explore the invitations found in the Sunday gospel reading, Christine will reflect on the ways we are called into intimacy with the earth, while John will break open the scriptures for us. To support our creative imaginations we have invited long-time dancing monk and artist Jan Blencowe to introduce our community to the practice of nature sketching as a way of seeing more deeply, and we have chosen four songs to support each week's themes and Betsey Beckman will invite us into gestures and movements to accompany them so we might include our bodies in our prayers each week. Christine will also invite you into weekly writing prompts and guided meditations to enrich our time together.
We will begin our journey with a live webinar session (recorded for those who can't make it live) on Monday, December 3rd at 4:00 p.m. Ireland/UK time (8 am Pacific time/11 am Eastern time/5 pm central Europe).
Weekly Themes:
Week 1 – Look and Listen for the Signs: Contemplative Presence to the Earth
Week 2 – Go to Wild Places: Open to Inner and Outer Wilderness
Week 3 – Clear the Way: Simplifying, Letting Go, and Making Space for the New
Week 4 – Proclaim Justice: Recognizing Our Place in the Earth Community
Daily Schedule
Sunday – Reflection from Christine Valters Paintner
Monday – Reflection on the Gospel Reading from John Valters Paintner
Tuesday – Guided Meditation from Christine Valters Paintner (written and audio formats)
Wednesday – Art Invitation: Nature Journaling with Jan Blencowe
Thursday – Movement Invitation: Song with guided gestures from Betsey Beckman
Friday – Writing Invitation and closing blessing for the week with Christine Valters Paintner
Saturday – Sabbath day of integration and rest
Registration
Program Fee: $95
To register please go to this link>>
ONLINE COURSE TERMS AND CONDITIONS
There are no refunds for online purchases.
Discounts are available for small groups wanting to move through the material together:  20% off when 3 people register together, 30% off for 5, 40% off for 7 and above. Please contact Christine by email to request an invoice. We require that one person take responsibility for full payment for the group.
Limited partial scholarships are available for those for whom participation in the retreat would otherwise be a hardship. Please contact us with your reasons for wanting to take the course and a prayerful consideration of what you can afford to pay. We do our best to honor as many requests as we can, but due to limited funds we may not always be able to fulfill your full request.
Your Guides for the Journey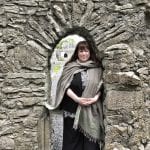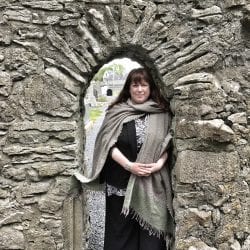 Christine Valters Paintner, PhD, REACE is a writer, spiritual director, teacher, and retreat & pilgrimage guide. She is the author of eleven books on contemplative practice and creative expression including her forthcoming book this fall 2018, The Soul's Slow Ripening: 12 Celtic Practices for Seekers of the Sacred. Christine lives in Galway, Ireland with her husband John where together they steward Abbey of the Arts, a global monastery, and lead pilgrimages to the wild edges.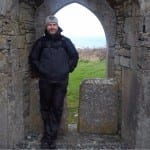 John Valters Paintner, MTS is the online prior for Abbey of the Arts, where he assists his wife Christine in ministering to global community both online and through in-person programs. John was a youth minister and pastoral associate for four years before becoming a high school religion teacher for twelve years. He has a Masters of Theological Studies from the Jesuit School of Theology at Berkely. His love for the Bible, particularly the Hebrew Scriptures, emerged when he taught the "Old Testament" at an all-boys high school. John is also a lover of the art of story-telling and has written dozens of short stories, one-act plays, and short films in a variety of genres.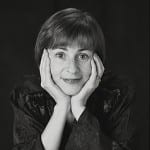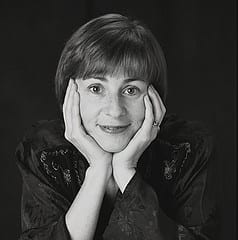 Betsey Beckman, MM, is nationally acclaimed as a spirited dancer, storyteller, teacher of SpiritPlay and dancing Spiritual Director. With her extensive repertory of sacred storydances, she is regularly featured as artist/presenter at national conventions as well as local churches. She earned her Masters in Ministry degree from Seattle University, her certificate in Movement Therapy from the Institute for Transformational Movement, and is a certified InterPlay leader. Betsey's publications include books, recordings, and The Dancing Word series of DVDs on embodied prayer. You can find out more about Betsey at her website.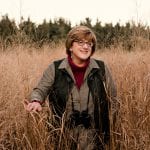 Jan Blencowe is an artist with a deep soul connection to the earth. She is a Certified Creative Depth Coach, Licensed JourneyCircles™ Facilitator and experienced retreat leader.  A down to earth mystic, Jan finds the sacred in the most ordinary of things, especially in the natural world. Using the wisdom of nature and the creative process, she inspires women to embrace their life's journey with creativity and passion by giving voice to their soul.  She views art and life as one, and the nurturing of the soul's growth as the most authentic and important work one can do. You can find out more about Jan at her website.
Forum Facilitators and Soul Guides
Amber Andreasen, MA
is a contemplative, ever desiring to deepen into and dance the rhythms of monk and artist.  She has trained as a spiritual director, receiving her Masters degree in Spiritual Formation and Soul Care from The Institute of Spiritual Formation at Talbot School of Theology. Wherever she finds herself, she desires to nurture a compassionate space where others can be listened and loved into fuller being by the Beloved.
She is continually awed by the body as sacred storyholder and storyteller, and her heart beats loudly for the weaving together of creativity and spirituality in the discovering of what it means to live an embodied, fully human life in all its mystery and wonder.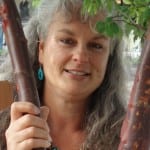 Melissa Layer, MA
 honors our unfolding journeys through life's challenges and transitions as compelling invitations for creative, integrative meaning-making in BodyMindSpirit.  Her sacred calling and training as a psychospiritual therapist, hospice grief counselor and interfaith spiritual director have taught her about the potency of the "thin places" in thresholds and dark nights of the soul.  Often utilizing expressive arts for curious exploration of the Great Mystery, Melissa offers her compassionate presence and deep listening to individuals and groups.  Like the honeybee for which she is named, she claims her role as "a bee of the invisible… passionately plundering the honey of the visible in order to gather it in the great golden hive of the invisible" (Rilke).  The evergreen forests of Puget Sound in the Pacific Northwest are her sacred sanctuary.  Melissa is available for spiritual direction by Skype, phone, email and also in-person for those living near Olympia, WA. You can visit Melissa's
website here>>