How necessary it is for monks to work in the fields, in the sun, in the mud, in the clay, in the wind: these are our spiritual directors and our novice-masters. -Thomas Merton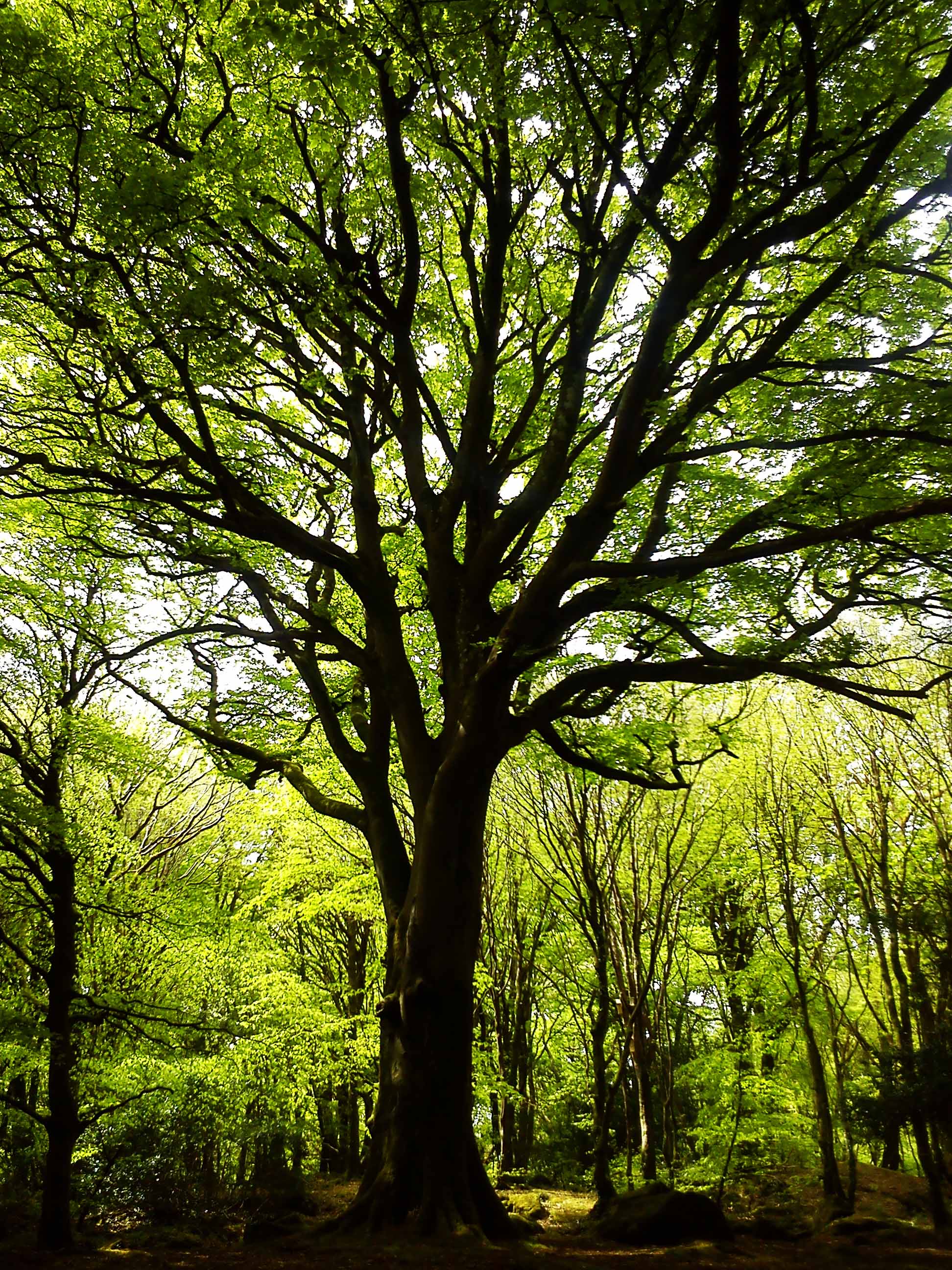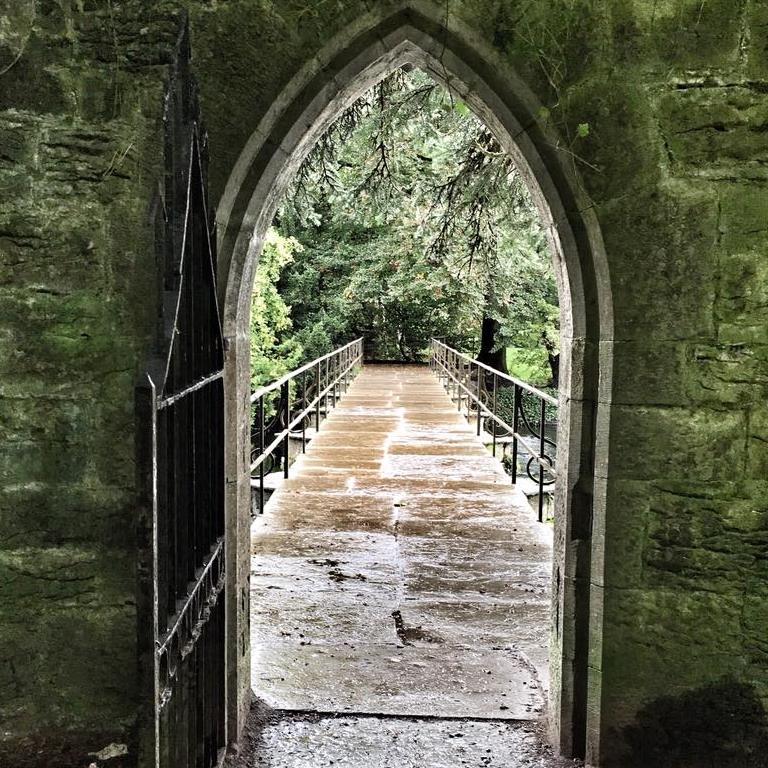 In the Celtic tradition, it is said there are two great books of revelation, the first being Nature and the others the sacred wisdom texts. Everything in nature can become a catalyst for our deepened self-understanding. The forest asks us to embrace our truth once again. The hummingbird invites us to sip holy nectar, the egret to stretch out our wings, the sparrows to remember our flock.
Each pine cone contains an epiphany; each smooth stone offers a revelation. When we watch and witness as the sun slowly makes its long arc across the sky, we begin to discover our own rising and falling. The moon will sing of quiet miracles, like those which reveal and conceal the world every day right before our eyes.
Spring invites us to blossom forth, summer calls us to our own ripening, autumn demands that we release and let go, and winter quietly whispers to us to rest, to sink into the dark fertile space of unknowing, releasing the demands of productivity and calendars and to do lists and to simply be.
Earth is the original monastery. 
Join us for a five-day intensive exploring contemplative and creative tools for nourishing a deeper intimacy with the earth. Drawing on Celtic spirituality, wisdom of the monastic tradition, embodiment work, expressive arts, and plant spirit medicine we will immerse ourselves in ancient ways to illuminate our modern lives and deepen our intimacy with the earth.
We will be based at the beautiful Bield at Blackruthven retreat center in Perth, Scotland with its labyrinth, walled garden, gorgeous trees, walking paths, and lush farmland surrounding us. Days will begin with morning ritual and then grounding time, meditation, and movement exploration. Afternoons will be spent exploring various landscapes through embodiment and expressive arts. We will engage in movement, creative arts, and meditation as we listen for the ways that landscape, seasons, and elements, offer us wisdom for our own journeys and in our work in service to others.
This intensive is geared toward those who are soul care practitioners (spiritual directors, chaplains, counselors, pastors, healers or ministers of any kind) who want to bring an earth-nourishing consciousness into their work and service, as well as find ways to sustain their ministry. Others who are discerning a path into these kinds of work, or who are deeply drawn into an intimate encounter with the earth, are also welcome. If you are unsure, please contact us and we can discuss further if the program might meet your needs.
There will be time for solo exploration and group process, indoor and outdoor sessions. Please dress for all weather possibilities (waterproof jacket, trousers, and boots). Bring a camera (a phone camera is fine), journal, pen, and comfortable clothing.
You do not need to have previous experience in the arts, movement, or nature exploration to join us, just a sense that this is calling you to your heart!
The program is designed to be interspritual and inclusive of persons of any faith background (or none at all).  In our teaching, we do draw on sacred stories from the Christian monastic tradition as they are part of the story of the land. We also share stories of the pre-Christian Celtic tradition, and draw extensively on the gifts of poetry. Our work together is in service to the ministry of companioning and/or offering healing to others in whatever context this takes place.  The arts, movement, and nature explorations offer tools and practices for being present to the ways that call unfolds.
Participants should be able to walk 2-3 miles at a moderate pace on uneven ground. These are not rigorous walks, but you should be able to navigate some uneven terrain. Please be in touch if you have any questions or concerns.
*This educational event provides 26 hours of continuing education that can be applied to the educational hours required by the Board of Chaplaincy Certification Inc. We can provide you with a letter or certificate of completion upon request stating the number of hours successfully completed which you can then submit to your governing body for CEU credit.

Single Room
£1350
priced per person
Double Room
£1150
priced per person
Nonrefundable deposit: £350 (due upon registration to reserve your space)
Balance: Single £1000 | Double £800 (due no later than March 15, 2018)
*Once we receive your deposit you will hear back from us within 48 hours to confirm your space.
Fee includes: 5 nights lodging in single or double rooms with shared bathrooms, breakfast, lunch, and dinner every day, all art materials and instruction.
We begin on Tuesday, June 12th with an opening prayer experience at 5:00 p.m.  Please plan to arrive between 3 and 5. Our final day, Sunday, June 17th, we will be finished by noon with lunch following.
Please note: There are no refunds available for the deposit at any time, or the program balance after March 15, 2018. This is a small and intimate gathering of kindred souls and we ask that you make a commitment to be with us. When you register we reserve a space for you and prepare for your arrival. We highly recommend purchasing travel insurance to protect against any losses that might occur if you have an illness or other emergency.

This program is full. Registration is now closed.

Where is the retreat center and how do I get there?
Find directions to Bield at Blackruthven in Perth, Scotland (click the link)
You can take the train to Perth and then a taxi at the station to the Bield which takes about 15-20 minutes. If you are flying to Scotland, you can arrive to either Glasgow or Edinburgh airports, and then take a shuttle to the city centre train stations and catch the train to Perth which takes about an hour and a half. Then take a taxi from the train station to the Bield.
What are the accommodations like?
There are 9 participant bedrooms with 6 single spaces and 6 double spaces for a total of 12 participants. Most rooms share bathrooms. Rooms will be designated on a first-come first-served basis. Sheets, blankets, and towels are provided.
What is the schedule like?
Our time together is fairly intensive as we cover a lot of material in five days but we do try to honor your need for some quiet integration time.
Day 1 – check in between 3-5 p.m., arrival by 5:00 p.m., opening ritual from 5-6, followed by dinner from 6-7, and an orientation from 7-9 p.m.
Days 2-5 – 8:00 a.m. for breakfast, morning session from 9-noon, lunch and an afternoon break from 12-3, afternoon session from 3-5:45, dinner from 6-7.
Day 6 – closing session is 9 a.m. – noon, then lunch and departure by 1:00 p.m.
We always encourage you to listen to the needs of your own body and spirit.
Are there CEUs available?
This educational event provides 26 hours of continuing education that can be applied to the educational hours required by the Board of Chaplaincy Certification Inc. We are happy to provide you a letter of completion at the end of the workshop with the number of hours and program objectives for you to submit to your licensing body.
If I'm not an artist can I still participate?
We believe that everyone is an artist!  Our approach is through the philosophy of the expressive arts, which focuses on the process of the creative experience rather than on creating a beautiful product (although inevitably an authentic expression of the soul is indeed beautiful!) and engages the arts in the service of healing.  We have had participants join us with a variety of previous art experience, and some of our "least experienced" participants have been the ones who have most wholeheartedly brought the full spectrum of the arts back to their ministry contexts.
If I'm not a spiritual director can I still participate?
We have had participants from a wide range of soul care ministries join us – spiritual directors, chaplains, retreat facilitators, counselors, therapists, pastors, and educators, as well as some who were just beginning to discover the direction in which they were being called to share their gifts or were in a place of transition.
We are also open to having those who are discerning a call to a soul care ministry or someone who is in a place of transition and feeling a strong draw to this material to join us.
Is this a denominationally-based program?
The program is designed to be inter-spiritual and inclusive of persons of any faith background. We do draw on some stories from the Christian and Celtic traditions. Our work together is in service to the ministry of companioning others on their spiritual journeys, wherever that may take them.  The arts offer tools and practices for being present to the ways that call unfolds.

Your Guides for the Journey
Betsey Beckman, MM, is nationally acclaimed as a spirited dancer, storyteller, teacher of SpiritPlay and dancing Spiritual Director. With her extensive repertory of sacred storydances, she is regularly featured as artist/presenter at national conventions as well as local churches. She earned her Masters in Ministry degree from Seattle University, her certificate in Movement Therapy from the Institute for Transformational Movement, and is a certified InterPlay leader. As dancer, choreographer, author, mother, wife, teacher and spiritual director, she is passionate about living life fully and fostering creativity in all those with whom she shares life and ministry. Betsey's publications include books, recordings, and The Dancing Word series of DVDs on embodied prayer.  She offers the gift of playful improvisation whenever possible!
Find out more about her work at her website:  The Dancing Word.
Christine Valters Paintner, PhD, REACE is the director of AbbeyoftheArts.com, a virtual monastery exploring contemplative practice, creative expression, and ways to nourish an earth-cherishing consciousness. She is a spiritual director, teacher, pilgrimage guide, and author of nine books on spirituality and the arts. Her deepest belief is that the earth is the original monastery – a wisdom guide and mentor in living a soulful and vibrant life.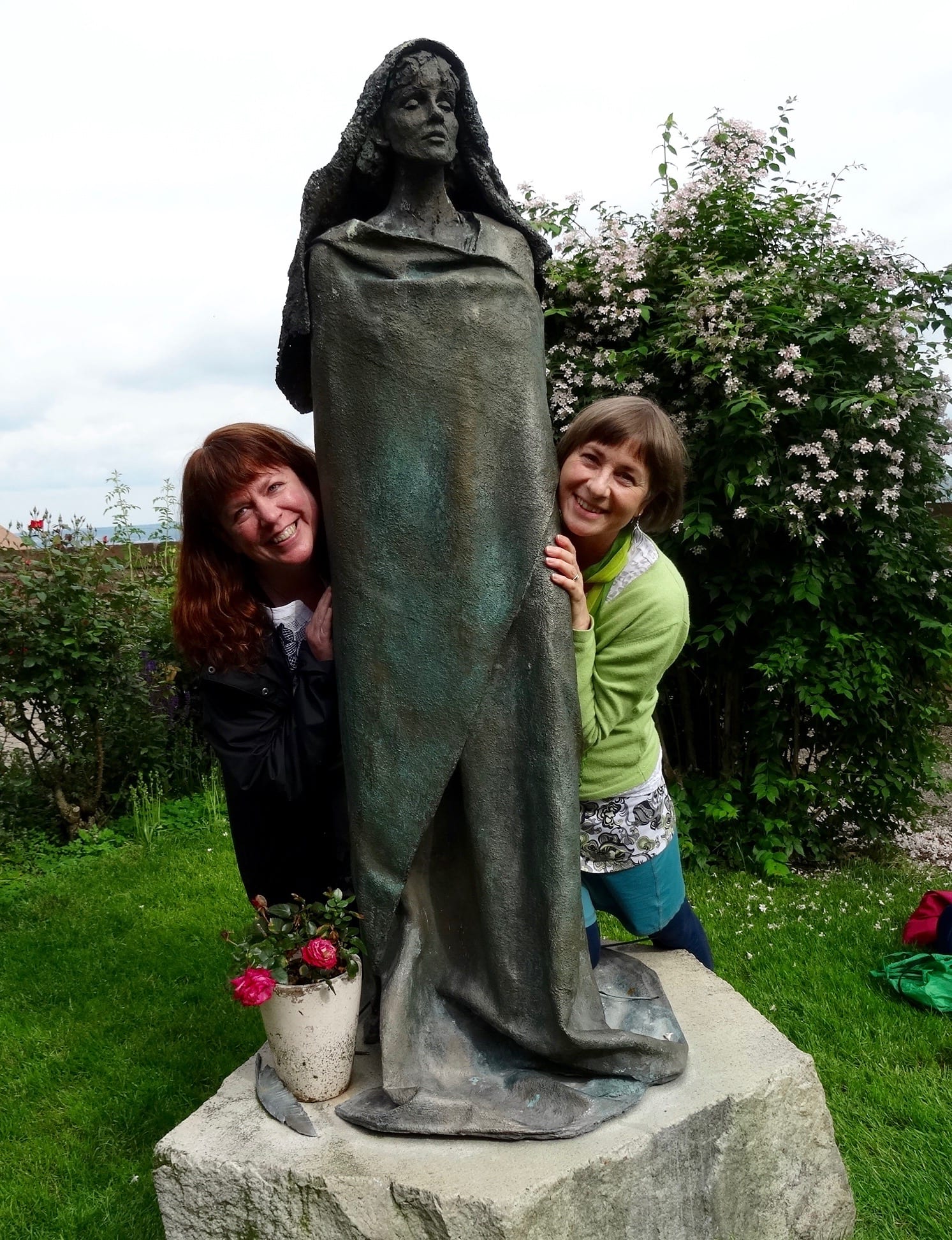 Thank you all so much for the Earth Monastery retreat – an incredibly special week – your combined facilitation, as always, just delights & amazes me in its lightness, professionalism – intriguing use of language, movement & space and subtle processes of integration on a personal level & group level – such a joy to watch you weaving your work together & be part of the experience & group. Much to ponder & dream about whilst moving back into the ordinary – although with a refreshed ness! -Melitta Bosworth
Just arrived back after a profoundly wonderful retreat called Earth Monastery Intensive at the Bield at Blackruthven House, offered by Christine Valters Paintner of the Abbey of the Arts with Betsey Beckman, whose spirit and dance infused the retreat as a lovely and evocative complement to Christine's wisdom and invitations into deep contemplation. We immersed ourselves in contemplative, prayerful and playful intimacy with the earth and each other. We received (and offered each other) indescribable inner and outer riches in our "Earth Monastery" experience. But I am barely scratching the surface of our time together! -Ani Tuzman
Thank you both for all of the time and effort you put into thinking through your Earth Monastery retreat.  It was amazing.  The location was stunningly beautiful and remains a part of my soul.  Of course, getting to have worship in the walled garden twice was over the top for me.   I loved it. Each of the worship services was wonderfully planned and implemented.  Everything had an artistic flair and spiritual depth that touched me deeply.  Thank you for your thoughtful planning and implementation of those moments of our time together.   Christine's poetry is breath taking and her thinking combined with her spirituality is a true blessing.  -Carol Kassner