Hildegard of Bingen and the Greening Power of God: A Pilgrimage in Germany
with Christine Valters Paintner, PhD, OblSB and Betsey Beckman, MM
ONE TWIN SPACE LEFT (Male)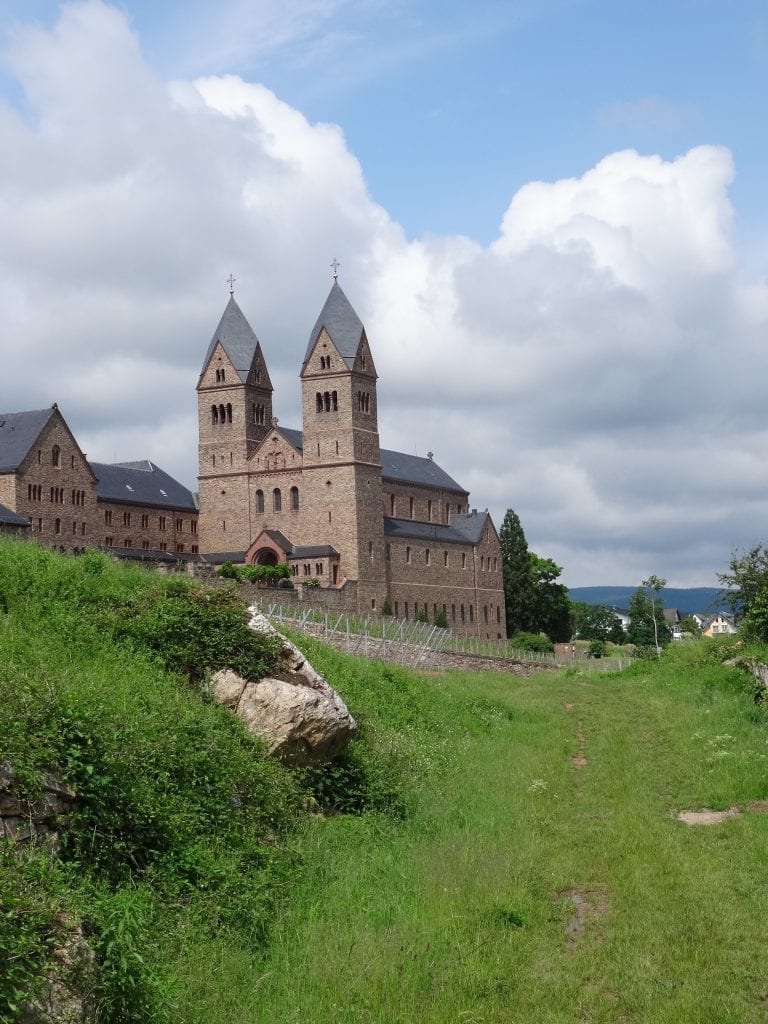 Join a community of pilgrims in Germany as we experience the landscapes and rhythms that nourished Hildegard of Bingen, mystic, composer, artist, poet, healer, preacher, ecological visionary, and spiritual director.  Let Hildegard become a soul guide as you immerse yourself in viriditas, the greening power of God, and embrace the legacy of her creative outpourings as gifts for our time.
Through presentations, contemplative practices in sacred spaces, community, and creative forms (including movement, music, writing, and visual art) Christine and Betsey will guide you in exploring how the paths of the monk and artist, which Hildegard so firmly embraced, can become doorways to our own soul's deepening and the greening power of the Divine Presence in our lives.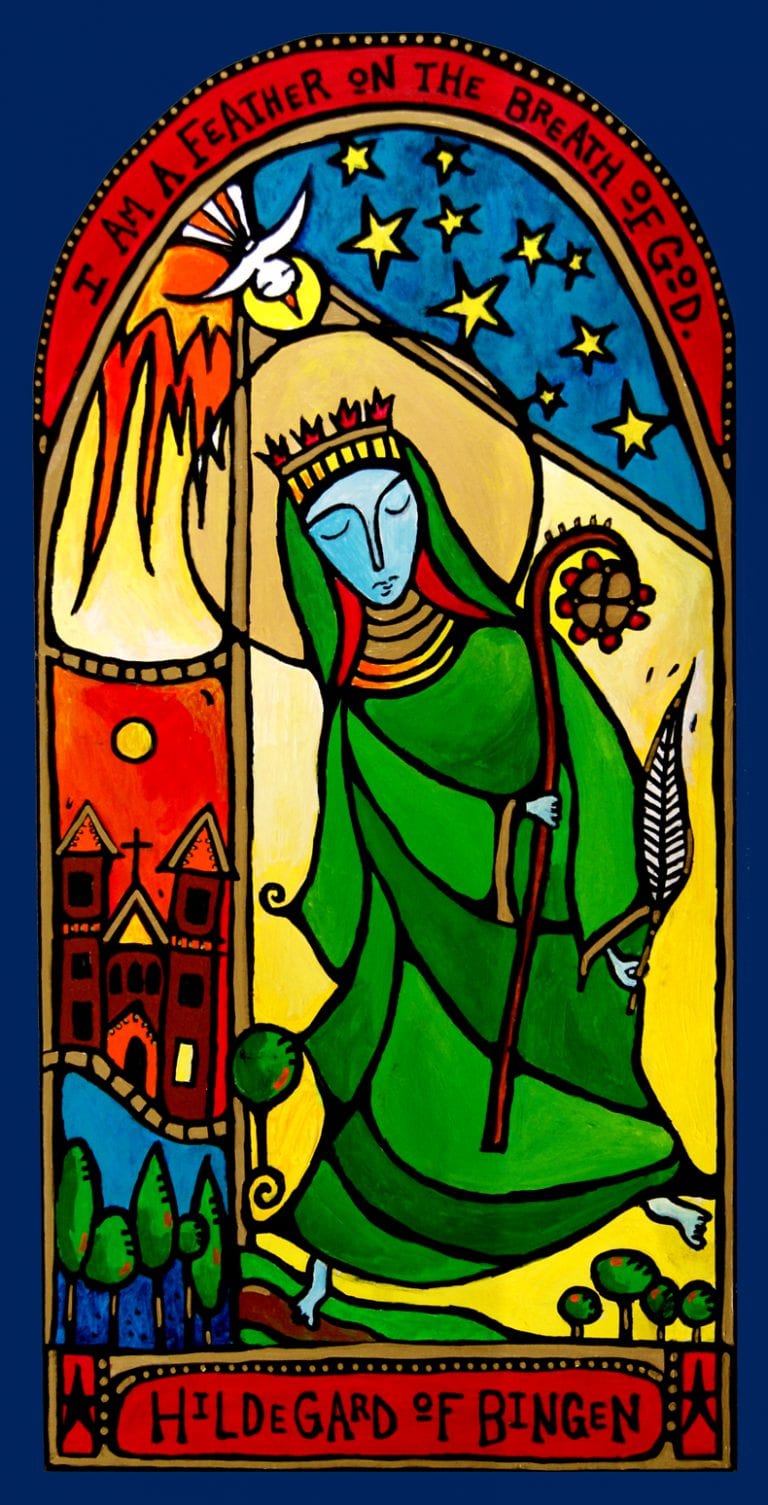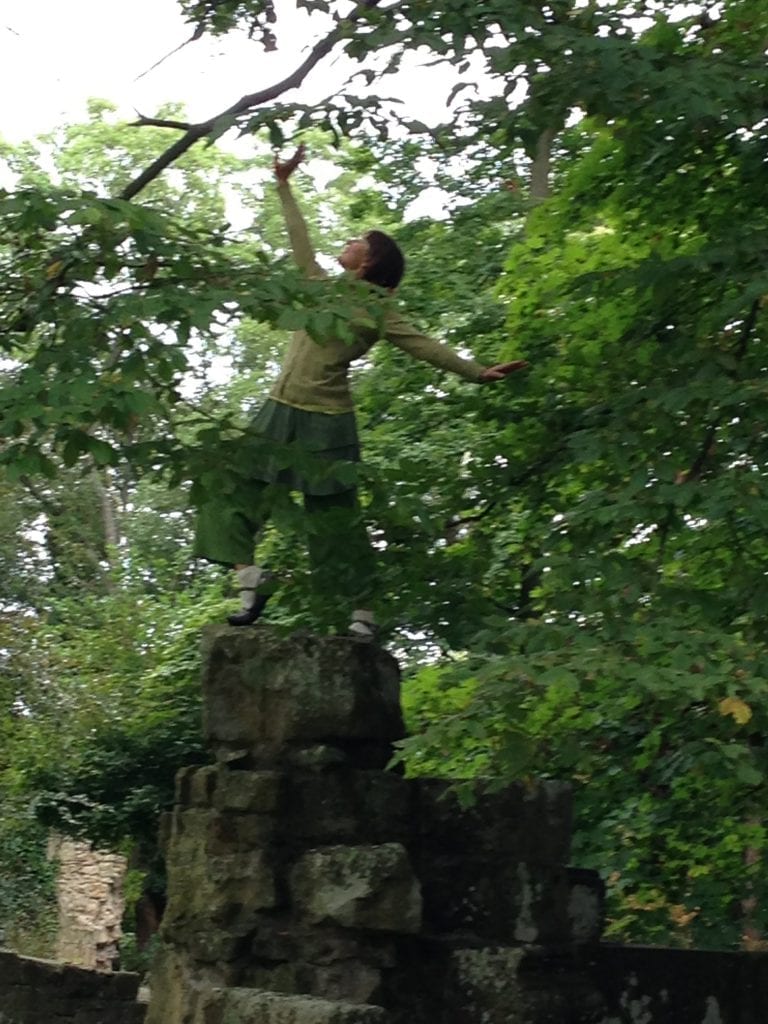 Your Guides for the Journey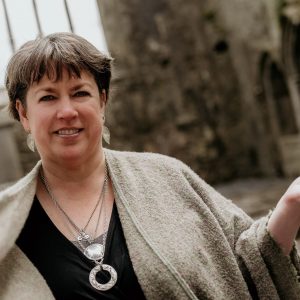 Christine Valters Paintner, PhD, REACE​
Christine is the director of AbbeyoftheArts.com, a virtual monastery exploring contemplative practice, creative expression, and ways to nourish an earth-cherishing consciousness. She is a spiritual director, teacher, pilgrimage guide, and author of nine books on spirituality and the arts. Her deepest belief is that the earth is the original monastery–a wisdom guide and mentor in living a soulful and vibrant life. Visit the "About Christine" page for more information.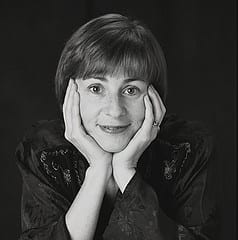 Betsey Beckman, MM  fell in love with Hildegard von Bingen in the 1980s when she developed a dance-drama depicting the Abbess' life story, thereby discovering a spiritual mentor in Hildegard's embrace of the arts, preaching, and healing practices.  Betsey's own professional and creative practices include dance, storytelling, spiritual direction, movement ministry, and videography.  In 2005, Betsey began collaborating with Christine Valters Paintner to develop Awakening the Creative Spirit: Experiential Education in the Arts for Soul-Care Providers.  Out of this initial offering grew a book, and the subsequent launching of online courses which eventually became the global virtual community of Abbey of the Arts.  Betsey's skills in playful improvisation blend seamlessly with Christine's depth of wisdom to create a beautiful duet of depth and expressiveness in their shared leadership. She earned her BA in Theology from Georgetown University, Masters in Ministry from Seattle University, her certificate in Movement Therapy from the Institute for Transformational Movement, and her certificate as InterPlay leader from BodyWisdom.org.  Under the umbrella of The Dancing Word, in addition to developing a full repertory of storydances, she has produced 4 CDs and (soon to be) 4 DVDs of song and movement prayers for Abbey of the Arts.  She offers the gift of playful improvisation whenever possible.
We want your pilgrimage experience to be soulfully enriching, stretching and challenging in the best ways, radically hospitable, inspiring, and wildly supportive of where you are. If you're not sure if this program is right for you or your fit with Abbey of the Arts please be sure to review everything here carefully, read more about the Abbey, about Christine and Betsey, about the Holy Disorder of Dancing Monks, subscribe to our email newsletter, read one of Christine's books, and if you feel a YES rising up within we eagerly welcome you to join us!
If you still have questions please get in touch by email. 
When you register you are making a commitment both to yourself as well as to us and the community that forms. We limit participants to a small intimate group, so dropping out affects the group experience and us as small business owners. We know sometimes life intervenes and cancellations happen. Please be clear on our cancellation policy. We are not able to refund the deposit which holds your space, there are no exceptions. But also please be clear on your commitment to this experience.
Pay your nonrefundable €600 deposit and register
The registration fee does not include transport to and from Bingen, Germany (about an hour by train from the Frankfurt airport) or travel insurance which we require you to purchase.
Your credit card will automatically convert the fee into your local currency. To check current rates go to xe.com but know that your bank conversion rates will vary slightly from these.
Your independently purchased travel insurance will protect you in the event of emergency cancellations.  To pay by check or if you would prefer to pay in USD$ or by bank transfer please contact us for details.
Registration deadline & final balance is due by March 11, 2022
1. Please read through this entire page including Policies and FAQs (below) and contact us with any questions or concerns.
2. Go to the Hildegard Pilgrimage Registration page, fill out the requested details and submit payment for your nonrefundable deposit.
3. Sign the Terms and Conditions (click the link to preview them, you will be asked to sign them electronically once your deposit and registration form are completed.) Paying your deposit implies consent to these and all the information on this page.
4. Purchase travel insurance to include trip cancellation ("cancel for any reason" highly recommended), as well as repatriation of remains, medical, and loss of property. We recommend purchasing as soon as you make the deposit. While we can't make recommendations for specific travel insurance providers, this website can be helpful in comparing different options if you are in the U.S. The coverage is here to give peace of mind as you invest your finances in this grand adventure!
Carbon Offsets and Travel
Travel has a significant impact on the environment but we also know that travelling with intention as a pilgrim can expand our hearts to ourselves and others in ways that are much needed in our world. The world needs more pilgrims and fewer tourists.
We invite you to be mindful when travelling, and consider taking public transport when you arrive to a country rather than rent a car if possible, and travel by train or public bus if you are going between countries rather than flying.
Abbey of the Arts has made a commitment to contribute a portion of the fees from our pilgrimages and live retreats to carbon offsetting companies that have been certified by third party organizations for their effectiveness. This is in addition to our Earth Monastery work to help nourish an earth-cherishing consciousness, as well as limiting the number of live programs we offer and our own air travel as much as possible. We believe Earth is our original monastery, the source of our contemplative wisdom and creative inspiration. In 2021 and 2022 we have chosen three companies to support. You are invited to consider making an additional contribution yourself if you are able.