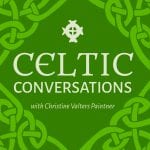 I am delighted to introduce a new podcast series, Celtic Conversations, inspired by my new book – The Soul's Slow Ripening: 12 Celtic Practices for Seeking the Sacred – and my time living in Ireland. I am hosting a series of conversations with authors, artists, and guides about Celtic spirituality. So find a cozy space and pour yourself a cup of tea.
My guest today is Deirdre Ni Chinneide and we had a delightful conversation about her background and how she came to live on Inismor, the stories of the island, the marriage between the Celtic and the Christian, the gifts solitude, connecting to a lineage of pilgrims, seasons of living on the island, creating a retreat space for healing, the music she is currently creating, and we close by playing her song "Surrender" from our album The Soul's Slow Ripening: Songs for Celtic Seekers.

Deirdre Ni Chinneide is  trained  as  a  psychotherapist  /  spiritual  director  and  workshop  facilitator.  She  has  worked all  over  Ireland,  the  U.S.A.  and Europe  including  Bosnia  and  Kosovo.  The  Aran  Islands  with  its unique  history,  culture  and  natural  beauty  provides  a  special  setting  for  the  retreat  work,  and  was the  place  of  inspiration  for  Celtic  Passage, a journey  of  the  heart  which  she  leads  through  music, reflection  and  prayer.
Deirdre  divides  her  time  between  the  Aran  Islands  and  the  mainland  offering  retreats,  workshops and  performances  of  spiritual  music  and  also  works  part  time  with  Partners  in  Faith,  a  Catholic  adult faith education  programme  working  in  marginalised  areas  in  Ireland. Her website is Celtic Passage.
Deirdre has three beautiful songs on our newest album from the Abbey, The Soul's Slow Ripening: Songs for Celtic Seekers.

Deirdre shared this beautiful blessing she wrote to begin our time together:
At each new land, there is a cross, a place to stop and scan direction. It is here you will be tempted to remain the same old story of a self that was cornered by its frame. Take my hand little one, let you walk on the inside, saved from that which blocks your journey home to this good house of hope.
*Opening music track is an excerpt from Simon DeVoil's song "Water" on his album Heart Medicine (used with kind permission)