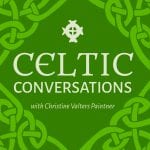 I am delighted to introduce a new podcast series, Celtic Conversations, inspired by my new book The Soul's Slow Ripening: 12 Celtic Practices for Seeking the Sacred and my time living in Ireland. I am hosting a series of conversations with authors, artists, and guides about Celtic spirituality. So find a cozy space and pour yourself a cup of tea. (Also available at Soundcloud, Stitcher and iTunes).
My guest today is Kayce Stevens Hughlett and we had a delightful conversation about discovering oneself through travel, how it is never too late to journey, the divine presence in the elements, the wildness of Ireland, the land as container and threshold place, ancestral healing, and her new memoir.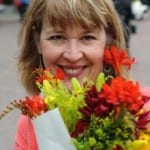 Kayce Stevens Hughlett is a tender, a healer, an author, and an artist of being alive who believes in everyday magic and that complex issues often call for simple practices. Breath. Body. A single step. She began her working life as an accountant for a multi-national firm and later transitioned into the more apt fit of healer when life's harsh circumstances sent her searching for answers and solace on a less-linear path. Kayce's official titles include: Licensed Mental Health Counselor, Spiritual Director, Life Coach, Speaker/Facilitator, and co-creator of SoulStrolling® ~ a movement for mindfulness in motion, at home or abroad. She is the author of three books, including her new body-mind-spirit travel memoir, SoulStroller: experiencing the weight, whispers, & wings of the world.

Kayce shared this blessing to begin our time together:
I see a time of seven generations when all the colors of mankind will gather under the sacred Tree of Life and the whole Earth will become one circle again. –Crazy Horse
*Opening music track is an excerpt from Simon DeVoil's song "Water" on his album Heart Medicine (used with kind permission)