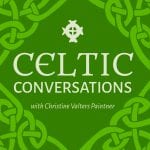 I am delighted to introduce a new podcast series, Celtic Conversations, inspired by my new book – The Soul's Slow Ripening: 12 Celtic Practices for Seeking the Sacred – and my time living in Ireland. I am hosting a series of conversations with authors, artists, and guides about Celtic spirituality. So find a cozy space and pour yourself a cup of tea.
My guest today is Pius Murray and we had a delightful conversation about a more embodied way of being, presence in the landscape, the story of St. Colman and his time as a hermit, Pilgrim Paths Ireland, slowing down to see ("all rushing is violence"), rituals he leads on his spiritual walks, the gifts of poetry, transitional spaces and thresholds, and cultivating awareness of wow moments.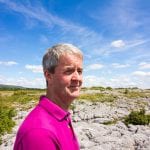 Pius Murray
N.T., B.A., H.D.E.(Hons.), LL.B.(Hons.), Diploma in Celtic Spirituality has his own guided walks business,
Walk With Pius
. He is a founder member of
Pilgrim Paths Ireland
and a member of the
Burren Ecotourism Network
. He is a member of the Burrenbeo Trust and a Burren Conservation Volunteer.
He organises and leads walks, especially Inspirational Walks which enable walkers to connect with nature and with the spirituality of the landscape in the Burren and on Inisheer, for visitors of all nationalities, students of all levels and a variety of associations and organisations. Pius lives in Corofin, County Clare with his wife and family.

Pius shared this beautiful blessing to begin our time together:
I arise today
Through the strength of heaven;
Light of the sun,
Radiance of the moon,
Splendor of fire,
Speed of lightning,
Swiftness of the wind,
Depth of the sea,
Stability of the earth,
Firmness of the rock.
I will this day.
—St. Patrick's Breastplate Prayer (excerpt)
*Opening music track is an excerpt from Simon DeVoil's song "Water" on his album Heart Medicine (used with kind permission)