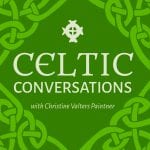 I am delighted to introduce a new podcast series, Celtic Conversations, inspired by my new book The Soul's Slow Ripening: 12 Celtic Practices for Seeking the Sacred and my time living in Ireland. I am hosting a series of conversations with authors, artists, and guides about Celtic spirituality. So find a cozy space and pour yourself a cup of tea. (Also available at Soundcloud, Stitcher and iTunes).
My guest today is Jenny Beale and we had a delightful conversation about finding Celtic spirituality in New Zealand, St. Brigit of Kildare and her goddess tradition, the story of Brigit and her cloak, sacredness of the landscape, the four Celtic festivals, the inspiration behind building Brigit's Garden, the gifts of winter, and the saging process.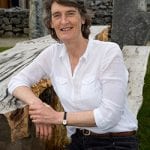 Jenny Beale has always found inspiration in the natural world and is particularly interested in the intersection between Celtic spirituality and nature. Fifteen years ago she founded Brigit's Garden in the West of Ireland, a Celtic-themed garden celebrating the Brigit tradition. Brigit's Garden is a place of tranquillity, closeness to nature and environmental education, and welcomes pilgrimage and other groups from all over the world.

Jenny shared this beautiful traditional blessing to begin our time together:
May the road rise with you
may the wind be always at your back
may the sun shine warm upon your face
and the rain fall softly on your fields
until we meet you may God hold you in the hollow of God's hand.
*Opening music track is an excerpt from Simon DeVoil's song "Water" on his album Heart Medicine (used with kind permission)