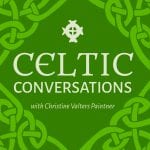 I am delighted to introduce a new podcast series, Celtic Conversations, inspired by my new book The Soul's Slow Ripening: 12 Celtic Practices for Seeking the Sacred and my time living in Ireland. I am hosting a series of conversations with authors, artists, and guides about Celtic spirituality. So find a cozy space and pour yourself a cup of tea. (Also available at Soundcloud, Stitcher and iTunes).
My guest today is Sharon Blackie and we had a delightful conversation about peregrinatio, the Celtic Otherworld, kinship with animals, the hybrid theology between pagan and Christian traditions, the sacredness of the land, the local nature of Celtic spirituality, the Heroine's journey, and the re-enchantment of the everyday.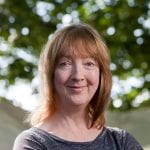 Dr. Sharon Blackie is an award-winning writer of fiction and nonfiction, a mythologist with a specialisation in Celtic Studies, and a psychologist who has specialised both in neuroscience and narrative. Her unique approach to working with myth, fairy tales and folklore highlights the insights these traditions can offer us into authentic and meaningful ways of being which are founded on a deep sense of belonging to place, a rootedness in the land we inhabit. In early 2017 she founded The Hedge School: both an online space and a physical location in Connemara, Ireland, for teachings in myth, wild mind and enchantment. Sharon's word-of-mouth bestselling nonfiction book If Women Rose Rooted offers up a new Heroine's Journey for this challenging age of social and ecological crisis, Her latest nonfiction book, The Enchanted Life, was published in February 2018. She is now completing a collection of original fairy tales about shapeshifting women, Foxfire, Wolfskin, which will be published in autumn 2019.

Sharon Blackie shared this poem she wrote "Peregrina" to begin our time together:
Peregrina
O mother of the sea
lend me a wave that is strong and true
to carry me from this Age which unbinds me.
I do not need a ship, mother,
but make it a buoyant swell
to bear me up and float me on the sea's dreaming
then beach me on some lighter shore.
When I land there, give me warp and weft again,
and an urchin quill to remind me
how the prettiest barb can lodge under your skin
and leave you undone.
Only lend me a loom and I will
take up the threads of this unravelled life.
I will weave a braid from three strands of seaweed
I will wind it three times around my finger
I will dig my salt-encrusted hands into the soil
and wed myself to the thirsty
brown roots of a new beginning.
–reprinted from Sharon Blackie's book If Women Rose Rooted: A Journey to Authenticity and Belonging
*Opening music track is an excerpt from Simon DeVoil's song "Water" on his album
Heart Medicine
 (used with kind permission)