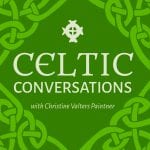 I am delighted to introduce a new podcast series, Celtic Conversations, inspired by my new book The Soul's Slow Ripening: 12 Celtic Practices for Seeking the Sacred and my time living in Ireland. I am hosting a series of conversations with authors, artists, and guides about Celtic spirituality. So find a cozy space and pour yourself a cup of tea. (Also available at Soundcloud, Stitcher and iTunes).
My guest today is Simon De Voil and we had a delightful conversation about the healing that comes from blessing, lessons from living in community on Iona, witnessing creation, music as ministry, belonging and exile, and boat building.

Simon de Voil is an interfaith/interspiritual minister, sacred musician, youth worker and wooden boat builder. In all these vocations, he uses music and carpentry as a means to help individuals and groups connect sacred presence with everyday life.
In recent years Simon has toured internationally and gained a reputation as a talented singer-songwriter and storyteller; he pairs thoughtful and inspiring lyrics with cracking good tunes, compelling piano melodies, and a rich, tender vocal style. His music explores themes of the inner landscape of the soul, the enchantment of the natural world and a personal journey to follow an unexpected calling.
As an independent ordained minister, Simon leads worship, preaches, facilitates workshops, crafts personalized rituals, and performs weddings, baptisms, funerals and other rites of passage for all people.
A dynamic and talented preacher, public speaker, and musical performer, Simon has shared his unique combination of creative worship, sacred music, and storytelling with universities, community groups, and spiritual gatherings across the US, Australia, and Scotland. His unusual life and music are the focus of the award-winning documentary film 'Funny Kinda Guy.'
You can find out more about Simon and hear his music at www.simondevoil.com
You can support him through his Patreon page at this link>>
Simon's beautiful song "Be Still" is on our new album The Soul's Slow Ripening: Songs for Celtic Seekers.

Simon shared this beautiful blessing to begin our time together:
*Opening music track is an excerpt from Simon DeVoil's song "Water" on his album Heart Medicine (used with kind permission)