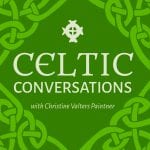 I am delighted to introduce a new podcast series, Celtic Conversations, inspired by my new book The Soul's Slow Ripening: 12 Celtic Practices for Seeking the Sacred and my time living in Ireland. I am hosting a series of conversations with authors, artists, and guides about Celtic spirituality. So find a cozy space and pour yourself a cup of tea. (Also available at Soundcloud, Stitcher and iTunes).
My guest today is Dara Molloy and we had a delightful conversation about seasonal connections, living in the wilderness, Celtic rituals, living continuously in a sense of divine presence, and the Irish tradition as a mentor, and mysticism of the Celtic tradition.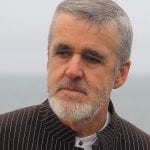 Dara Molloy is a Celtic monk, priest and druid. He began his adult life as a Roman Catholic priest ordained into The Society of Mary (Marists). In 1985 he moved to the Aran Islands to live as a Celtic hermit. He lived in a small wooden garden shed for 10 years. During this time his work developed into offering hospitality to wanderers and seekers in a thatched cottage next to his hut. In 1995, Dara formally left the Catholic Church. He declared that he was remaining a priest and  began to offer spiritual services such as weddings, christenings (naming ceremonies), rites of passage and funerals inspired by the Celtic tradition. He offered these from the standpoint of not belonging to any church, sect or cult. This is now his full-time work apart from some writing and leading of pilgrim groups. Dara is married to Tess Harper and they have four children. He is the author of two books: Legends In The Landscape  A Pocket Guide to the spiritual sites of Inis Mor, Aran Islands and The Globalisation of God – Celtic Christianity's Nemesis. He has a new book to be published in the coming year provisionally entitled Rethinking God – A Celtic Perspective. You can find out more about him at his website.

Dara Molloy shared two beautiful poems with us to begin our time together:
The Wish of Manchán of Liath
(A 10th century poem, anonymous, about the dream of a 6th century monk)
I wish, O son of the Living God, ancient eternal King, for a secret hut in the wilderness that it may be my dwelling.
A very blue shallow well to be beside it, a clear pool for washing away sins through the grace of the Holy Ghost.
A beautiful wood close by around it on every side, for the nurture of many-voiced birds, to shelter and hide it.
Facing the south for warmth, a little stream across its enclosure, a choice ground with abundant bounties which would be good for every plant.
A few sage disciples — I will tell their number — humble and obedient, to pray to the King.
Four threes, three fours, ready for every need, two sixes in the church, both south and north.
Six couples in addition to me myself, praying through the long ages to the King who moves the sun.
A lovely church decked with linen, a dwelling for God of Heaven; then, bright candles over the holy white Scriptures.
One room to go to for the care of the body, without ribaldry, without boasting, without meditation of evil.
This is the housekeeping I would get. I would choose it without concealing. Fragrant fresh leeks, hens, salmon, trout, bees.
My fill of clothing and of food from the King of good fame, and for me to be sitting for a while praying to God in every place.
The Lake Isle of Innisfree — W.B. Yeats, 1865 – 1939
I will arise and go now, and go to Innisfree,
And a small cabin build there, of clay and wattles made:
Nine bean-rows will I have there, a hive for the honey-bee;
And live alone in the bee-loud glade.
And I shall have some peace there, for peace comes dropping slow,
Dropping from the veils of the morning to where the cricket sings;
There midnight's all a glimmer, and noon a purple glow,
And evening full of the linnet's wings.
I will arise and go now, for always night and day
I hear lake water lapping with low sounds by the shore;
While I stand on the roadway, or on the pavements grey,
I hear it in the deep heart's core.
*Opening music track is an excerpt from Simon DeVoil's song "Water" on his album
Heart Medicine
 (used with kind permission)