Embark on a pilgrimage to discover something new about yourself.  It isn't so much a choice you make, as a response to a call already whispered to you.  In the experience of encounter with strangeness and unfamiliarity, you are able to move out of our assumptions, expectations, and preconceived ideas, so a new way of seeing yourself and the world can break free.
with Christine and John Valters Paintner
Our next dates will be in November 2019
(contact us to be notified when registration opens)
9 days / 8 nights / limited to 15 participants maximum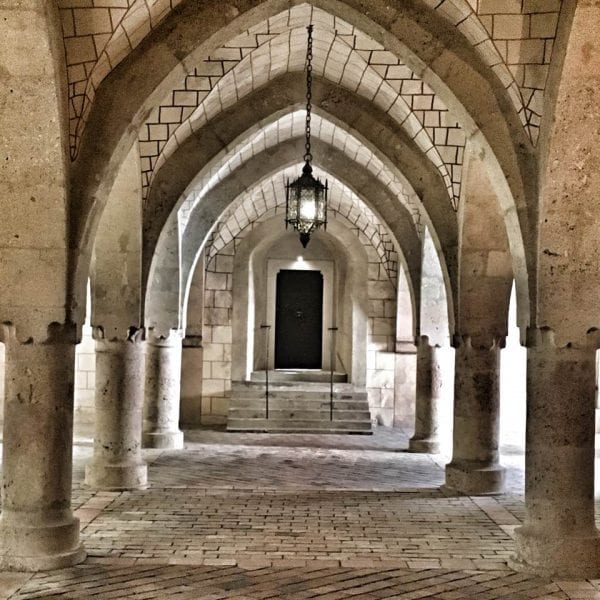 Join our small band of fellow pilgrims in the historic and sacred center of the Austrian capital of Vienna, one of the most beautiful cities in the world.  Be part of an intimate group of to some of the many wonderful monasteries in and around Vienna.
This is a different kind of journey; it is a pilgrimage, not just a tour.  You won't be spending each night in a different city and then moving on. You won't be rushing from site to site to get it all in.  You will be rooted in a particular place.  Vienna is a wonderful city for monks and artists – a world-class city with much beauty and monastic roots, some even inside the old city walls.  Art and culture emanates from the streets and inside churches. Becoming a monk in the world doesn't mean removing yourself from life, but immersing yourself in the vibrant pulse of the world with practices to keep you centered in your own sacred center. Come not to take, but to receive. Don't be a tourist, be a pilgrim.
We – Christine and John Valters Paintner – will be the stewards of this time.  In spring of 2012, we sold everything we owned to go on our own life pilgrimage which led us to live in Vienna for six months before settling in Ireland.  Vienna is where Christine's father grew up and is now buried alongside her grandparents, and where she traveled often in her youth with her family.  We have traveled to Vienna many times over the years, and are always drawn back to this great city for its magic and beauty.  It is a city of the heart. Vienna has served as muse and guide for our own inner monks and artists and we are eager to experience it anew with others.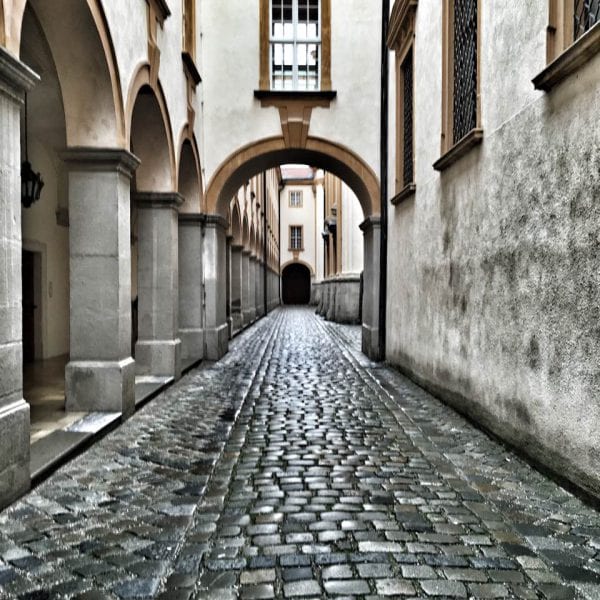 Together we will create a temporary monastic community.  We will explore and reflect on the ways the contemplative and creative gifts of this city and surrounding areas can help shape our lives when we return to the world.  We will support one another through prayer, adventure, and holy surprises.
Each day we will focus on a particular Benedictine theme and practice to shape our reflection for our pilgrimage to a sacred site and ponder the wisdom of the monastic tradition for our own lives.  During our morning sessions we will gather as a community for lectio divina, ritual, writing, photography, gentle movement, sharing, and silent presence we will deepen into this tradition. At the monasteries we will have private tours in English and be invited to enter into the wisdom of these places.
We will also have the option and opportunity to join the monks at Schottenstift Abbey (where we are staying at the guesthouse) for their morning, evening, and night prayers as part of our shared monastic rhythm.
We will be visiting different monastic sites, as well as a couple of other treats and treasures, with a private tour guide at each location, spending time there and allowing the places to speak to us.  No hopping off a giant coach with 50 other tourists to snap pictures and move on.  We will walk and utilize Vienna's amazing public transportation system on this up-close and personal pilgrimage, to get a feel for daily life there.
Six seminar sessions throughout the week will be a time to pause and reflect together on what we are discovering, deepen into the monastic tradition, and engage ancient contemplative practices.
Our evenings will be back in Vienna for dinner at wonderful restaurants.  (There are three evenings and a couple of afternoons when you have the time free for your own exploration.)

Book of Days
*Bold indicates group outings. Prayers with the monks is optional.
**Itinerary subject to modifications as needed.
Saturday, November 12:
3:00-4:00    Check in at Monastery Guesthouse
4:00-6:30    Welcome and Orientation (Seminar room)
6:30               Opening dinner at Leupold restaurant (Viennese cuisine)
Sunday, November 13:   
8:00-9:00       Breakfast
10:30-12:30 Mass at St. Augustine Church with music
12:30-2:00   Lunch at Augustinerkeller (Viennese cuisine)
2:00-4:00    City Walking Tour
4:00 – on       Evening free and Dinner on your own
Monday, November 14:
7:00-9:00       Breakfast
9:00-11:30   Morning Session (Seminar room)
11:30-4:00      Lunch on your own / afternoon free
4:00-6:00    Private tour of Schottenstift Abbey (Benedictine)
6:00-8:00    Dinner at Brezl Gwolb (Viennese Cuisine)
Tuesday, November 15:  
7:00-9:00       Breakfast
9:00-11:30   Morning Session (Seminar room)
11:30-12:30  Travel to Klosterneuberg
12:30-2:00   Lunch at Klosterneuberg
2:00-4:00    Private tour of Klosterneuberg (Augustinian Abbey)
4:00-5:00    Return to Vienna City Center
5:00 – on        Evening free and dinner on your own
Wednesday, November 16:     
7:00-9:00       Breakfast
9:00-11:30   Morning Session (Seminar room)
12-5:00           Lunch on your own / afternoon free
5:00-6:45     Dinner at Beaulieu (French Cuisine)
6:45-7:00     15 minute walk to St. Ruprecht
7:00-8:00    Taize service in St Ruprecht
Thursday, November 17:
7:00-9:00       Breakfast
9:00-10:30  Travel to Melk Abbey by private coach
10:40-11:30 Private tour of Melk Abbey (Benedictine)
11:30-1:15 Time to wander Abbey grounds
1:30-2:45     Lunch at Melk Abbey
2:45-4:00    Return to Vienna
4:00 – on       Evening free and Dinner on your own
Friday, November 18:
7:00-9:00       Breakfast
9:00-11:30   Morning Session (Seminar room)
11:30-2:00      Lunch on your own
2:00-6:00    Visit the Central Cemetery
6:00-8:00    Dinner at Schesch Besch (Turkish Cuisine)
Saturday, November 19:
8:00-9:00       Breakfast
9:00-10:00  Travel to Heiligenkreuz Abbey by private coach
10:30-11:30  Private tour of Heiligenkreuz Abbey (Cistercian)
12:00             Midday prayer with monks at Abbey
12:30-1:30    Lunch at Klostergasthof
1:30-2:30      Return to Vienna city center
2:30-6:00       Afternoon free
6:00-7:30     Closing Dinner at Melker Stiftskeller (Viennese Cuisine)
8:00-10:00  Classical Concert at St Peter's Church
Sunday, November 20:  
8:00-10:00     Breakfast
Departure anytime this morning
Praying the Hours
You will also have the option to join the monks of Schottenstift Abbey for prayers in the morning, at midday, and at night. We will hand out this schedule when you arrive to Vienna.
Choose with Discernment
We want your pilgrimage experience to be soulfully enriching, stretching and challenging in the best ways, radically hospitable, inspiring, and wildly supportive of where you are. If you're not sure if this program is right for you or your fit with Abbey of the Arts please be sure to review everything here carefully, read more about the Abbey, about Christine and John, about the Holy Disorder of Dancing Monks, sign up for our free Monk in the World online course, read one of Christine's books, and if you feel a YES rising up within we eagerly welcome you to join us!
If you still have questions please get in touch by email. If you want to have a brief Skype session to make a live connection, let us know that as well.
When you register you are making a commitment both to yourself as well as to us and the community that forms. We limit participants to a small intimate group, so dropping out affects the group experience and us as small business owners. We know sometimes life intervenes and cancellations happen. Please be clear on our cancellation policy. But also please be clear on your commitment to this experience.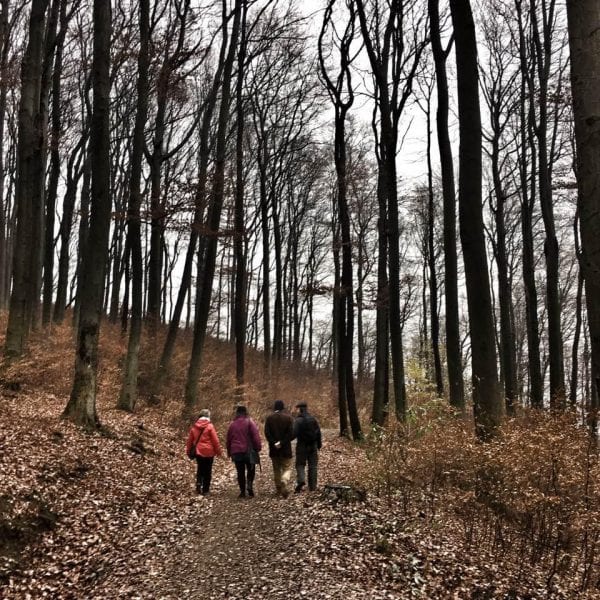 Program Fee:
Single Room Fee is US$2950 per person
Double Room Fee is US$2700 per person
A nonrefundable deposit of US$500 will hold your space.
The balance will be due July 1, 2016 and is nonrefundable after that time.
Fee includes a simple, yet very comfortable, single room en suite in the monastery guest house, daily breakfast, 4 lunches, 5 dinners, all public transportation on the pilgrimage itself (you must get to Vienna on your own), and entry fees for group outings and private tours.
Not included: travel to and from Vienna, trip insurance (required), beverages, desserts, appetizers, gratuities, 3 lunches and 3 dinners (lots of inexpensive options in Vienna).
Steps to Register:
Read the entire page including the FAQs below
Go to the registration page here to pay your nonrefundable deposit and secure your space
We will send you a confirmation of your registration (usually within 24 hours) and the Terms and Conditions which need to be signed digitally and returned to finalize your space.
Final Payment
Single room balance USD $2450 –
Double room balance USD $2200 –
Requirements:
You will need a passport to travel to Austria.  U.S. citizens can visit for up to 3 months on an automatic travel visa.  EU citizens can enter visa-free.  Citizens of other countries should check with your local Austrian embassy.
Please note: This pilgrimage will require lots of walking.  Vienna is a very walkable city. We will be traveling by public transit and walking around the old city. You should be able to walk 3 miles comfortably at a moderate pace. Please contact us first if you have concerns about this.
FAQs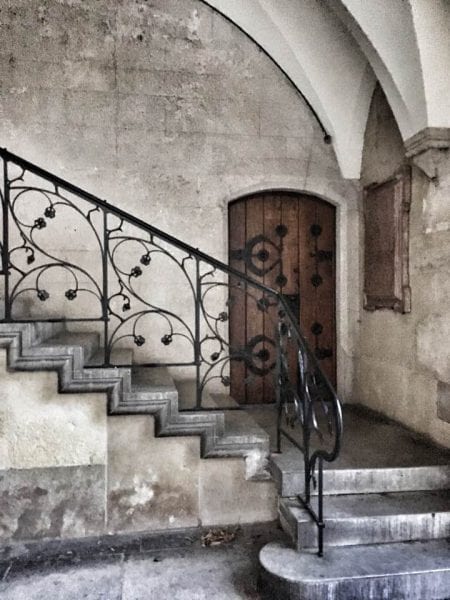 Where is the monastery located?
Schottenstift Abbey will be our home for the 8 nights of our journey. It is located at the Freyung in the very heart of Vienna's center. We are ideally situated to take in the beauty of old city.
What is the weather like?
November can bring colder temperatures and rain, but there is also the chance of beautiful autumn days. Dressing in layers works best, with comfortable shoes, and bring an umbrella with you.
What is included with the meals?
Breakfast is included at Schottenstift Abbey each morning in the guest dining room. Options include breads, cold cuts, yogurt, and fruit. If you need additional or alternative items, there is a grocery store across the street where you can purchase needed supplies.
Lunches and dinners will all be at different restaurants that we love, so there will be options.  Your meal includes a main course.  Servings in Austria are generally pretty hearty. There are often vegetarian options on the menu, but limited as Austrian's food culture is still very meat (mostly pork and beef) and potatoes-centered. We will be dining in places that serve typical Viennese cuisine, as well as a lovely French and Turkish restaurant to include some variety. Beverages, appetizers, and desserts are an additional cost. Keep in mind that in Austria often pitchers of water are not provided for tables and drinks need to be purchased separately.
What payment forms do you accept?
You can pay by credit card right from this web page using the buttons above.  We also accept checks (we will send you our U.S. or Irish mailing address depending on where you are sending payment from) and payment by bank transfer (we will send the details of our account on request).  If you would prefer to pay the amount in Euros, please contact Christine for the amount.
What is your cancellation policy?
The $500 deposit secures your space in this small pilgrimage group and is nonrefundable.
The balance of the program fee is due five months prior and is nonrefundable after that time.
We ask that you obtain travel insurance to cover any personal emergencies that may prevent you from joining us.
What is the schedule of the day like?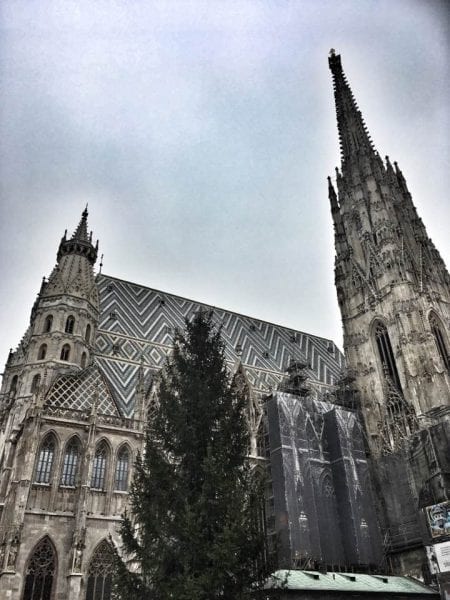 Please see the Book of Days above for the schedule, most days will be full, but we hope to offer some spaciousness within our time together for lingering at different places. The schedule is subject to changes as needed.
Will you match me with a roommate?
Everyone who participates will have a single room with their own bathroom, unless you are traveling with a friend or partner, in which case you can share a double room for a reduced program fee.
How much walking is there?
Vienna is a fantastic city for walking as most of it is flat and the city center is compact (there is a three-mile ring street running around the perimeter to give you a sense of size). We will be providing you with a weekly transit pass so you can travel anywhere in the city limits that week on their wonderful transit system. You should be able to walk 3 miles at a time at a moderate pace. Please contact us if you have concerns.
Does the pilgrimage have disabled access?
Unfortunately because of the limitations of some of the older sites we are visiting including the monastery where we are staying, you will need to be able to navigate a flight or two of stairs.
How do I best prepare for this time?
Once you say yes, the pilgrimage has already begun! Pay attention to the dreams of your waking and sleeping life in the coming months to see what is being stirred.  Christine and John will be sending some suggested reading and reflection.
What is the best way to get to Vienna?
Fly into Vienna International Airport and from there you can take a taxi or public transit to the monastery. We will be providing specific directions as we approach our time together.
Vienna is near many other fabulous cities in Europe. You can get to Bratislava, Prague, and Budapest all very easily. We recommend visiting Salzburg if you have time (there is a Benedictine monastery there) as well as the beautiful and charming village of Hallstatt, set between the side of a mountain and edge of a lake, where the earliest Celtic remains in Europe are found. The Austrian Alps are located in the Tirol region in the west of the country with Innsbruck as the main city. Everything is very accessible by train or bus.