I am delighted to share another beautiful submission for the Monk in the World guest post series from the community. Read on for Janeen Adil's reflection on blessings.
I suspect that one of my earliest exposures to the concept of blessing came not via some holy and spiritual source — but rather, from a sneeze! As a child I learned that the sound of an Achoo! should quickly be followed by the response of "God bless you." Just as "thank you" was followed by "you're welcome," saying the word "bless" after a sneeze did not require critical thinking — it was simply the proper and polite thing to do!

I heard more about blessings at church, since my parents faithfully brought us there every Sunday. Familiar passages around this concept included, for example, the Beatitudes' list of those who are blessed, as well as the comforting image of Jesus blessing the little children. "Bless" and "blessings" popped up in other Bible verses as well, in the hymns we sang, and in the prayers we prayed. Although I had a general idea of what these terms signified, at that young age I saw it to be "church talk."

My first real hint of some deeper understanding around blessings came later, as a high school student. One summer I participated in an overseas exchange program. It was there that I heard an Irish woman exclaim in admiration, as she watched a highly skilled craftsman at work, "God bless the work of your hands!"

Never within my New England mainline Protestant upbringing had I heard anyone talk like this. I was intrigued! In that moment, I found that my view of offering a blessing began to shift. To bless had been taken beyond the church walls and out into the world — it was active. It was alive!

It wasn't until decades later, however, that this shift became one of more seismic proportions. I responded to God's call to ministry within my denomination and at that point, a whole new world cracked open for me. The books I now read and the courses I took offered me a world of wonders. Up to that point on my faith journey, I had had next to no exposure to our rich Christian spiritual traditions. Now I was learning about and participating in disciplines from centering prayer to hospitality to discernment to lectio divina, and many more.

It was within this time (rather recently, in fact!) that I was introduced to John O'Donohue's book, To Bless the Space Between Us. His words fell into my open heart — thanks in part, I believe, to my own Celtic background and sensibilities. I shared many of his blessings with friends, especially when I found a blessing to match a particular situation in their life.

I also studied and absorbed the additional material he offered within his book, To Retrieve the Lost Art of Blessing. He wrote: "I believe each of us can bless. When a blessing is invoked, it changes the atmosphere. Some of the plenitude flows into our hearts from the invisible neighborhood of loving kindness. In the light and reverence of blessing, a person or situation becomes illuminated in a completely new way."

Blessings, it seemed, were both holy and "everyday" — an interweaving that was reflecting my spirituality. I came to describe the act of blessing as invoking love.

As I unfolded into a contemplative life,  I was drawn first to working with a spiritual director and then to pursuing the path to enter this ministry myself, which became a great complement to my previous training. This part of my journey brought its own deepening, in ways that were often profound and unexpected. I noticed that many fronts and barriers between my own self and others were softened to the point, now and then, of being granted to see another person with "Jesus eyes."

And so I began to use the words of blessing more and more, as in exclaiming "I was so blessed!" Or, "Blessings on your day" to my husband, as he heads to work. Or, "May you experience God today" at the end of an email. Or, looking the Salvation Army bell-ringer in the eyes and saying "Bless your work!" as I put a donation in the kettle. One especially profound experience came as I was privileged to offer both anointing and words of blessing to a dozen mission workers of my congregation, as they were about to step out with hammers and paint brushes into our community. "Blessings on the work of your hands and the work of your heart," I said with great intention to each person in turn.

Today I find that offering a blessing has become a contemplative practice, a freeing and natural response to Spirit's ongoing work. My new and recent invitation has been to start writing blessings of my own. I am grateful to John O'Donohue, that unknown woman from Ireland, and to so many others for leading the way!
---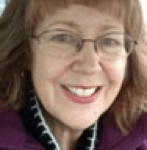 Janeen R. Adil is a writer, spiritual director, and Minister of Christian Spirituality within the UCC. Through her Hungry Soul Ministries she offers workshops, retreats, and direction. A book manuscript is underway, designed for those new to spiritual practices. She lives in  eastern PA, in a farmhouse built by English/Welsh Quakers over 200 years ago!